By Katie Berger
Lo and behold, it is Wednesday yet again.  Eric and Co. are hard at work bringing this remarkable one man production of The Tempest to life.  I last read the original text of The Tempest while I was a young whippersnapper in high school, so I thought now would be a great time to revisit the play.  It has always been one of my favorites, and last week I recommended for all of YOU to read the original text  - not only so you could be prepared to see the show at freeFall, but also so I could work out your brain muscles with some discussion questions!!  Let's take a break from the old grind on this glorious hump day and talk about SHAKESPEARE!
Discussion questions:
1. Do you view The Tempest as a comedy, tragedy, or romance?  It has been debated for years since it doesn't fall into any one of the classic categories neatly.  Maybe it's a little of all of them!  Which aspects of the story fall into which genre?
2. One of the most important themes of the play is the relationship between ruler and subject.  Prospero believes that he has the right to rule the island.  Why does he believe this?  What are the consequences of these beliefs?
3. Another major theme is the role of the artist in society.  This is shown by Prospero's role as a magician who manipulates other people – which many people see as a metaphor for the artist manipulating society's thoughts and feelings.  What do you think is the role of the artist in modern society?  Are you an artist?  If so, why do you do the work that you do?
4. In your opinion, what is the significance of the storm at the beginning of the play?
5. What is the nature of the relationship between Prospero and Miranda?  And how does it change over the course of the story?
6. What are your thoughts on the final speech?  Many believe that it is Shakespeare's goodbye to his craft. Is that how you read it? If not, what does it mean to you?  What emotions are brought up for you as you read it?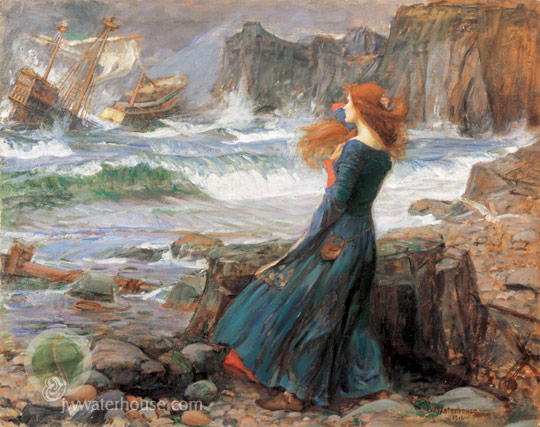 I had so much fun rereading The Tempest and coming up with these discussion questions, and I hope you have enjoyed it too.  Please comment on the post or on Facebook if you have any thought provoking answers to the questions I have posed, I would love to hear what you have to say.  Or of course, you can find me when you come see our production of The Tempest and tell me in person!  The show opens May 23rd and you definitely will not want to miss it!  I hope to see you there!!